Pubtelligence Xpress @ SXSW
A Special Edition of Google's Certified Publishing Partner Event
Thursday, March 7th, 2019

Pubtelligence Xpress @ SXSW
Austin, Texas on March 7th, 2019
If interested in Pubtelligence New York (click here)

Pubtelligence is Google's Certified Publishing Partner event designed exclusively for digital publishers, content creators, website owners, media outlets, and bloggers.
Pubtelligence started out as an invite-only event hosted at Google offices but has grown into one of the largest publisher-only events in the world.
Pubtelligence Xpress @ SXSW (South By Southwest) is a free event that includes co-collaborators from Google, Ezoic, and leading digital publishers.  Pubtelligence Xpress is a single-day, rapid-fire engagement for digital publishers designed to highlight industry trends, data, emerging strategies, and to facilitate rare networking opportunities.
Apply to attend Pubtelligence Xpress below.
Apply To Attend Pubtelligence Xpress
(Only 50 seats available. Previous events have reached capacity quickly)
Apply To Pubtelligence Xpress at South by Southwest
Who Attends Pubtelligence?
Digital publishers, major media brands, bloggers, and website owners of all shapes and sizes are invited to apply to Pubtelligence.
Pubtelligence features speakers and sessions led by world-leading experts in digital publishing, SEO, online content creation, and content monetization. Past speakers include executive and thought leaders from Google, the New York Times, The Telegraph, Hearst UK, CBSi, & many more.
It is a day of learning devoid of vendors and solicitors. 100% of previous attendees said what they learned at Pubtelligence was helpful and 99.8% have asked to be invited again.
Pubtelligence XPress is designed to be faster, and slightly smaller, than traditional Pubtelligence events.
Pubtelligence Xpress @ SXSW
Date: March 7th, 2019
Time: 12:30pm-5:00pm
Location: South Congress Hotel
1603 S Congress Ave, Austin, TX 78704
Post-Event Happy Hour: 5:00pm-7:00pm
(hosted onsite immediately following the event)
Why Attend Pubtelligence Xpress?
Pubtelligence is an exclusive publishers-only event that features access to world-leading experts. It is free to attend and will feature rare networking and expert insights.
Pubtelligence Xpress will feature expert-led sessions, live data-sharing, and interactive Q&A's. The event theme will focus on trends in digital publishing and actionable ways to impact monetization, SEO, audience growth, and digital infrastructure.
Past attendees have raved about the networking opportunities. It is one of few places where publishers can connect without the influence of lots of vendors and 3rd parties.
Countdown Until Pubtelligence Xpress @ SXSW
Pubtelligence Xpress @ SXSW Agenda
12:30-1:00pm - Networking
Coffee and snacks will be provided starting at 12:30 for all attendees. The first 30 minutes are often some of the best opportunites to network and meet eachother.
1:00pm-1:30pm - "Wait... What Just Happened?!?" - Tyler Bishop, Host / Award-winning marketer
Tyler Bishop kicks off the event with the story of a publisher who was able to increase their revenue by 300% in less than 15 minutes.
Tyler dives into this unique case study and highlights why — at the very heart of this story — there is an actionable and valuable lesson for all digital publishers heading into 2019.
Tyler will share exactly what happened and how all publishers can apply this to their business in the months to come.
Speakers: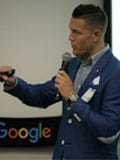 Tyler Bishop, Award-winning marketer
1:30pm-2:00pm - How To Have An Idea & Get Lucky - Piper Lofrano, Ezoic
Piper will share the stories of several publishers that were able to turn crazy ideas into successful publishing strategies. Along the way, she will share insights and clever tricks that all publishers can use to
get lucky
.
This session will be a unique opprunity to view multiple long-term case studies from real publishers of all shapes and sizes.
Speaker
Piper Lofrano, US Publisher Team Lead, Ezoic
2:00pm-2:30pm - Let's Talk About Speed - David Schmetzle, BizBudding
David breaks down case studies of websites that have had issues with speed. He'll highlight what has shown to be the most important elements to adjust for SEO and visitor experience.
David will also dive deep into what challenges many publishers face with speed and discuss solutions that are not always obvious. david's actionable insights will make speeding up your site easier than ever before.
2:30pm-3:00pm - SEO in 2019 & Beyond - TBA
Learn how to prepare for the next sweeping evolution of Google search. Discover how to prepare your content for upcoming changes and how to manage SEO challenges and issues.
Speaker
Soon to be announced SEO expert
3:00pm-3:40pm - Growing Traffic & Revenue Despite Everything Changing Around You - TBA
This session will be led and hosted by a be a soon to be announced brand publisher that has been able to evolve alongside the changing digital ecosystem over the last decade. They'll share how they've adjusted to major platform changes and maintained profitability despite shifts in visitor behavior and emerging revenue models.
4:00pm-5:00pm - End of The Day Leadership Panel with Q&A
The end of the day Q&A is an opportunity for all attendees to ask questions (town hall format) about anything that was discussed during the event — or anything else related to digital publishing — to a conglomeration of industry experts and speakers from the day.
The panel will also feature a set of moderated questions and discussions fielded from attendee inqueries earlier in the day.
Panel Members:
Speakers from the day and experts in the worlds of SEO, monetization, and website infrastructure
Do Publishers Have To Pay To Attend Pubtelligence?
There is no cost to attend Pubtelligence whatsoever.
The event is application-only (but anyone can apply to attend). If your application is approved, you will receive a full access pass to the full event agenda.
Once an application is approved, you must still finalize your registration.
Our post-event happy hour features a free open bar complimentary to attendees as well.
The event is provided to publishers cost-free by Google & Ezoic (purely as organizers, not sponsors) and is designed to be a day of learning for a diverse group of digital publishers of all sizes and niches.
Attendees will be responsible for their own travel and lodging.
Where Should We Stay For The Event?
The event location is at South Congress Hotel. This is close to the Austin airport and downtown area. There are many other appropriate lodging options in the area; however, due to SXSW the best way to ensure an affordable arrangement is to check travel brokering websites for the best rates.
Why Applications To Attend?
Pubtelligence is an extremely popular event and we typically reach capacity quickly.
Previous events have been held at Google offices in San Francisco, London, Los Angeles and New York. All have reached capacity.
While we are trying to increase the number of these events — and diversify where they are held — we are committed to maintaining an extremely diverse and high-quality audience to ensure that the value of the event remains up to the standard we have set at previous events.
Pubtelligence Xpress is designed to be a smaller, faster version of Pubtelligence that brings together smart publishers, experts, and thought leaders in one place for the expressed purpose of learning and growing.
We know that's not fun, but we promise the approval process happens really fast, so you won't have to wait to find out 
Is Pubtelligence Worth My Time?
We sure hope so!
Our exit surveys from previous events show a 100% "yes" rating on the question "Did you receive valuable information at the event today?"
Pubtelligence was very thoughtfully crafted by teams at Google and Ezoic. 99.8% of past event attendees have asked to be invited again and 94.6% said they would be willing to travel across the globe just to join!
The event is designed to be informative, enlightening, and interactive for publishers and website owners of all shapes and sizes.
We've collected feedback from every event and use that to improve Pubtelligence. For example, last time we heard that publishers wanted to see more case studies, expert discussion on SEO, and opportunities to network informally. We have worked to incorporate all of this feedback.
We think this combination of education, insights, and interactivity will give all attendees the ability to dive deep into new discoveries about their digital properties.
We believe this will result in unprecedented opportunities to develop growth strategies and discover new techniques for developing your business.
Can I See A Preview of What To Expect?
Sure.
This is a video recorded at Pubtelligence London last year at Google in London,UK.
Can I Bring A Guest?
Absolutely.
In the application, there is a section where you can list if you plan to bring a guest.
If your application is approved, your guests are approved as well and you can enter their names and e-mails on the official guest registry.
Why is the event just for publishers?
We've found that this is what makes Pubtelligence so great.
Our experts and speakers can address topics specific to one unified audience. Webmaster, SEO, and other web-related topics are often broadly addressed.
Pubtelligence is specific to online content creators and publishing brands. This makes the information more actionable and much more helpful to those that attend.
This also makes networking much more enticing and beneficial for everyone. No one has to navigate around vendors, B2B businesses, or other non-publishers. It makes for a very friendly and helpful environment.
We've had publishers tell us that the event's networking opportunities transformed their brand/business.
Apply To Attend Pubtelligence
(Only 50 seats available. All previous events have reached capacity quickly)
Apply To Pubtelligence Xpress at South by Southwest