Fast Facts
Ezoic Start: September 2016
Ezoic Level: 

VIP
Ezoic Revenue Increase: +239%
EPMV % Increase Over 1 Year: 79%
Top Categories of Content
News
Rumors
Exclusives
Features
Ezoic Tools & Features Active
Leap
Premium
Big Data Analytics
Levels Dashboard
Best Performing Ad Size
300×250

Greg's Story
"Grouchy Greg" Watkins launched www.AllHipHop.com in 1998. Now, the site features all sorts of current topics in HipHop, ranging from daily news to gossip and reviews. It is a trusted source that other publications cite regularly for its news content. Greg is a veteran when it comes to online publishing, the internet, and the entertainment industry in general.
After being unhappy with a previous ad ops shop, Greg decided to take his business to Ezoic. Now, he engages in monthly calls with his publisher success manager Jennifer where they strategize how AllHipHop can best take advantage of the digital advertising scape.
As you can imagine, work takes up a lot of time so Greg is constantly on one of his phones – he's mastered solving any piece of his business from a phone since the early 2000's. He also mentioned that outside of work, he enjoys spending time with his family in Delaware, where he was raised.
Highlights from Greg at allhiphop.com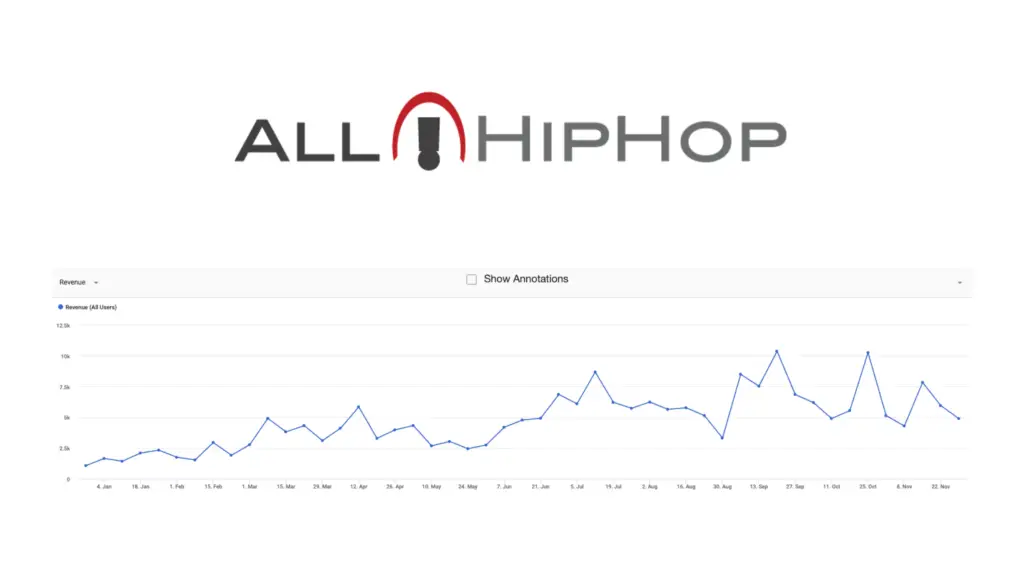 Greg loves all the visibility he gets into his buisness with Ezoic. Seeking out all the valuable points in Big Data Analytics puts decision making at ease for Greg. Since joining Ezoic he has increased his EPMV by over 75%. Here are a few reports uses to optimize his site:
Author metrics, meaning he sees what content writers perform the best
Types of pages/content that generates the most revenue, meaning he creates more content/pages that are likely to produce more revenue
Size of placeholders, where placeholders are shown, types of ads, meaning he can optimize the number of ads on page
Competitor ads to block from appearing, meaning he has the ability to always be in control
Want to see more publisher profiles across Ezoic Levels?
Looking to become an Ezoic publisher? Get started now.