Fast Facts
Ezoic Start:

January 2021
Ezoic Level: 

VIP
Average Monthly Revenue: 

$90,000
Ezoic Revenue Increase: +1,349.18%
EPMV % Increase Over 1 Year: 48%
Top Categories of Content
Job Search
Growing Your Career
Job Interview
Articles
Ezoic Tools & Features Active
Leap
Ad Tester
Big Data Analytics
Levels
Highest EPMV
$74.63
Best Performing Ad Size
300×250

Emmanuel's Story
Emmanuel is the CEO and co-founder of grabjobs.co, based in Singapore. GrabJobs is a leading global job site and recruitment platform, enabling job seekers and employers to connect seamlessly. GrabJobs develops technology that helps companies automate the repetitive and time-consuming stages of the recruitment process. Over 10,000 companies use GrabJobs to cut down their recruitment process time by 90%, such as Uniqlo, H&M, McDonald's, DHL and Accor Hotels. In order to make the most of his site from a revenue perspective, Emmanuel turned to Ezoic just over a year ago and has already seen extraordinary results. Since Emmanuel started using Ezoic, his site's EPMV has tripled in 9 months from $25 (March) to $75 (November). As a high traffic site, with nearly 5 million pageviews, Emmanuel consistently uses Ezoic's Revenue Analytics platform and says "[Ezoic's analytics feature] is excellent and very user friendly. It's been the #1 contributor to us increasing ad revenue by making improvements to our pages and traffic acquisition strategy."
Highlights from Emmanuel at grabjobs.co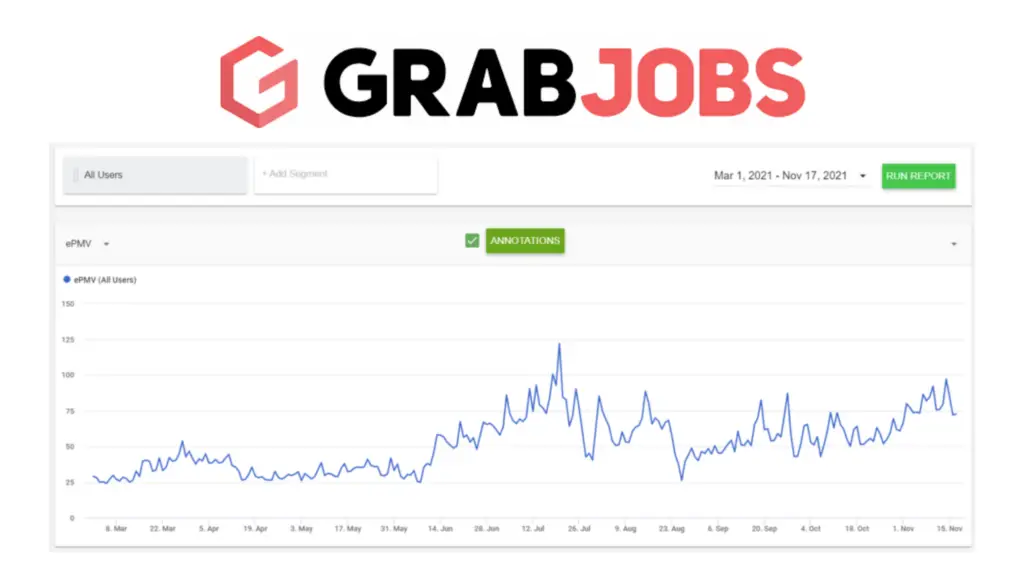 Emmanuel uses features within the Ezoic dashboard to make better decisions for his site, and his audience. Since joining Ezoic he has increased his EPMV by over 48%. Here are a few reports and data points Emmanuel uses to optimize his site:
Size of placeholders, where placeholders are shown, types of ads, meaning he can optimize the number of ads on page
Types of pages/content that generates the most revenue, meaning he creates more content/pages that are likely to produce more revenue
Countries that generate the most revenue, meaning he focuses more time on getting traffic from high EPMV / ad revenue countries
Competitor ads to block from appearing, meaning he has the ability to always be in control
Want to see more publisher profiles across Ezoic Levels?
Looking to become an Ezoic publisher? Get started now.