Work With All Partners On One Unified Platform
Manage ads, ad partners, test them apples-to-apples
Ezoic brings the power of our machine-learning platform to publishers interested in testing new ad partners, optimizing existing ones, and improving overall ad performance.
Interested in trying AppNexus, Outbrain, Revcontent, OpenX, and other ad exchanges, header bidders, and networks? Let data decide and put yourself in control of testing.
Avoid completely outsourcing this entire part of your business. Use the Ezoic platform and our award-winning account team to stay in control of your website ad performance and optimization.
Earn more revenue, stay in control
The Ezoic platform is used by publishers of all shapes and sizes to to scale decisions, access multiple ad partners, and perform automated tests proven to increase revenue.
Publishers leverage Ezoic to control experiments related to ad testing, mediating ad partners, and improving visitor experiences on their websites.
This allows publishers to plug-in existing ad partners and access thousands of new ones on a single platform.
Features that drive real growth
Ezoic offers an app store filled with additional features that help publishers do things like monetize and convert pages to AMP, adhere to GDPR compliance, manage ads.txt files, test ad placements using machine learning, and much more
All the apps in the Ezoic app store are free and allow publishers to scale decisions that help them grow their site's traffic, avoid spammy redirects, manage direct ad deals, and much more.
Header bidding and more…
The Ezoic Platform can easily help publishers implement header bidding while using machine learning to optimize partners and avoid many of the common mistakes made with traditional header bidding implementations — such as a singular timeout for all ad units on the page — failing to apply discrepancy rates to bids, etc.
More importantly, Ezoic has an easy-to-use interface that allows publishers to do this all themselves; including adding any existing header bidding partners to the Ezoic platform.
Google Certified Publishing Partner
Ezoic is a Google Certified Publisher Partner and is used by thousands of digital publishers all over the globe.  Ezoic works with any existing ad networks, ad exchanges, and direct deals.
You can bring all of your existing ad partners into Ezoic and even test the entire platform itself on a small portion of traffic to be sure Ezoic is adding value.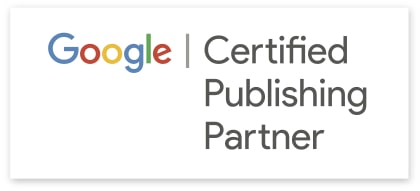 Does Ezoic give me access to new ad partners or networks?
Almost certainly, yes.
You're in control of everything but Ezoic provides access to Google's Ad Exchange as well as a large collection of header bidders and other ad networks. Ezoic also allows you to connect all existing ad relationships.
Can I keep my existing Ad Networks?
Yes!
We know that you've worked hard setting up various ad networks and finding out which ones work best for your site – that's why we have a feature called Mediation. Mediation can help provide another level of discovery for you if you choose to use it.
How much does Ezoic cost?
Ezoic is completely free to try for 30 days.
After 30 days, we pay for our service by either placing a small ad on the bottom of our site or, you can opt for a monthly subscription.  You can view more details on our Pricing Page.
Can I still keep direct ad deals?
Yes!  And you're encouraged to do so.
For clarity, we define a "direct ad deal" as a special arrangement you have with a single advertiser.  You can also keep your entire existing "ad stack" or set of ad partners. Ezoic also allows you to add your existing ad networks to Mediation to see how well they compete with other industry ad providers.
Ezoic has two different solutions for publishers concerned about delivery of direct deals:
1. Direct Ad Deals App
You are able to enter the details of any direct ad deal into the Ezoic system.  This includes fixed CPM deals, guaranteed delivery and much more.  You can write rules to ensure it delivers precisely how you've intended it to run. Read more about it on our Direct Ads page.
2. Ezoic's DFP Extension
Ezoic can integrate seamlessly with your existing DFP ad server.  Using this option, Ezoic will serve all ads through your own DFP account which means you can continue to traffic any direct ad deals the same way you always have.  Read more about it on our DFP Extension page.
Will Ezoic affect site speed?
Most sites using Ezoic see an improvement in site speed.  Here's why:
Ezoic integration is not JS integration. We use a super-fast form of integration at the DNS level that gives you complete control and ensures a fast (or faster) website and ad load speed.
Ezoic is an official partner of Cloudflare, the largest CDN and security service in the world.   When using Ezoic, you can enable the Cloudflare CDN – for free – to speed up your website. Ezoic also offers our caching capabilities free of charge. Ezoic using AWS around the globe to help speed up the delivery of your content and ads to visitors.
This means the implementation of advanced DDoS protection and more.
In addition, you can elect to have Ezoic automatically implement best practices on your site, such as lazy-loading, combining external resources such as scripts and css, and code compression. You can choose to configure all of this however you wish inside Ezoic.
Overall, the Ezoic service runs in 20+ data centers around the world.
Each data center is fully independent and, in the event of a local failure, fails over to the next closest data center.
Does Ezoic have unique demand?
Ezoic is not an ad network.
Ezoic is a tool for publishers designed to help scale the optimization of things like ad placements, density, and more.
The value of Ezoic is maximizing the value of every session using existing demand; as well as any Ezoic partners you'd like to select to compete with your existing stack.
You can start by trying out Ezoic on only a small percentage of traffic.
If Ezoic truly helps you scale decision-making, improves revenue, and adds value in its reporting you'll know, right? We know that ad ops professionals will be able to determine when things are working and when they aren't.
That's why Ezoic allows apples to apples testing. Test your existing setup vs. Ezoic on just 10% of traffic to see Ezoic just how impactful scaling ads through advanced visitor segmentation can be.
Start Using Ezoic
You can start by sending only a very small portion to Ezoic for testing.