Frequently Asked Questions
Choose Topics
General

Compatibility

Monetization
Site Speed
Choose Topics
General

Compatibility

Monetization
Site Speed
What is Ezoic?
Ezoic is a platform with multiple products for publishers.
We're is often mistaken for an ad network or ad tech because many publishers see the value they receive from Ezoic as purely ad revenue, but it's more accurate to compare Ezoic to a company like Adobe, which is a platform with multiple products for design and media.
What are Ezoic's eligibility requirements?
There are no eligibility requirements for core features or for the Site Speed Accelerator.
Monetization requirements include: 
An average of 10,000 sessions per month (recommended)
Adhere to Google's Ad Policy
Content should be original
Track record of identifiable traffic
View the full eligibility requirements here.
How long does it take to get set up with Ezoic?
Creating an account with Ezoic is easy and takes 30 seconds.
After creating an account, you must integrate your website with Ezoic. Integration time varies by the integration option selected, but the majority of websites can complete integration, setup, and be approved in less than 24 hours after creating an account.
Ad Tester configuration can take up to an hour, but our expert team can assist in speeding up the process.
How much does Ezoic cost?
Ezoic has both paid and free features.
Free features include Big Data Analytics, Consent Management, SSL Generator Google Search Console Linking, Privacy Policy Creator, Script Tester, Ads.txt Manager, and the SEO Title Tag Tester.
View the pricing for our paid features here.
What are Ezoic's payment terms?
Ezoic offers a net 30-day schedule. The same as Google AdSense and Google Ad Manager.
For example, publishers are paid January's revenue at the end of February.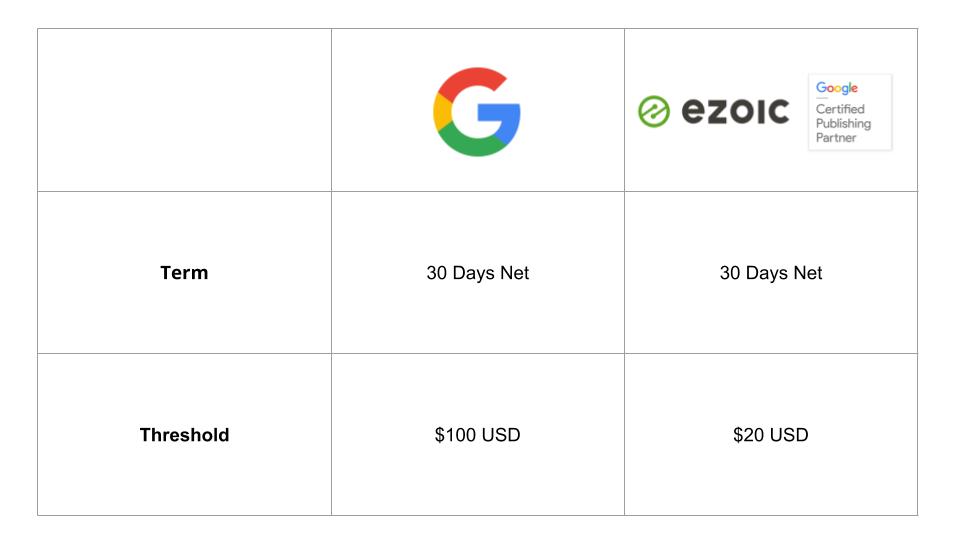 Ezoic is venture-backed and profitable with a track record of on-time payments spanning nearly a decade.
Learn more about Ezoic's payment terms here.
Will Ezoic change my website?
No. Ezoic's priority is to enhance performance behind the scenes. Ezoic makes most websites faster and improves experiences for visitors while giving you total control of experimentation. How you edit the content of your site will not change at all.
Ezoic allows you to dictate how different aspects of your site can be personalized and tested for different visitors based on the goals you set.
Do I have to sign a contract with Ezoic?
There are no out-of-pocket costs, no contracts, and no tie-ins of any kind. You are free to come and go as you please.
The reason we don't ask for any tie-in is that we are confident that the results will speak for themselves.
What types of website does Ezoic work with?
Ezoic works with all content verticals.
Our features are adaptive and built for a variety of sites: niche sites, reference sites, blogs, independent publishers, AdSense publishers, affiliate sites, evergreen content, news sites, online application sites, web-based tools, big brands like Cosmopolitan, and more
Can Ezoic work with any CMS, themes, or plugins?
Ezoic works with the vast majority of technologies and infrastructure.
View our compatibility page to see the full list of compatible hosts, CDNs, and more.
Does Ezoic manage ads for websites?
We are not an outsourced service provider. Ezoic was built to put the necessary tools and controls into the hands of publishers to truly maximize the revenue of their efforts.
Not even the best ad management or operations professionals can conduct the kind of testing and optimization that Ezoic machine learning can. Putting the control to set goals in the hands of the publisher creates better transparency and ensures your best interests always come first.
What ad partners does Ezoic work with & can I keep my existing header bidding partners?
We work with all leading ad providers and header bidders and give publishers access to the 1,500+ advertisers and ad partners within Google AdExchange. 
Implement a competitive bidding auction using any of your existing partners, along with the most popular and reliable industry partners. 
The Ezoic Mediation feature makes adding existing partners simple and will track how each one performs. 
What features does Ezoic's Site Speed Accelerator have?
Site Speed Accelerator has features for caching, lazy-loading iframes and images, managing CSS, auto-optimizing fonts and images, serving images in next-gen format, and more.  Learn more about Site Speed Accelerator here. 
Is the Site Speed Accelerator just tricking pagespeed tools?
No, Ezoic's Site Speed Accelerator provides proprietary script loading features that sync and load scripts according to a number of criteria we developed that function differently on every unique site.
This means making the loading of these scripts faster, more efficient, and removes any disruption they may have on UX.
Will the Site Speed Accelerator's ad delay feature affect my earnings?
No. This feature delays the loading and execution of ad codes until the content has loaded.  
Ezoic's machine learning system makes many decisions and one of them is weighing ad load time vs. revenue and user experience.  
The assumption that slower loading ads result in less revenue is not correct; in some cases, giving the programmatic auction more time is more beneficial than displaying a lower-yielding ad more quickly.  These circumstances also differ by page, device, connection speed, country, user, and more.
The only way to see the impact of Ezoic is to test it. Simply create an account and begin configuring your site to your preferences.