Chrome Unboxed Monetizes with Ezoic – Turns Side Hustle into Profitable Media Outlet
April 2022
Background
Started as a YouTube side hustle in 2015, Chrome Unboxed has grown into a media outlet drawing over 1.6 million visits a month from readers who are interested in all things Chrome OS, Chromebooks, and Google. Founder Robby Payne, a one-time web developer/tech head and professed fanatic of all things Chrome OS, began unboxing Chromebooks, tinkering with them on his kitchen floor and filming his discoveries and candid assessments. 
In 2016, Google announced that Android was coming to Chromebooks. Robby started writing articles about Android apps to go along with the videos he was already creating and the site increased its reporting on other Chromebook news. Right place, right time prevailed and chromeunboxed.com, the popular media outlet covering all things Chrome OS, Chromebooks, and Google, was born. 
Joe Humphrey and Gabriel Brangers, both of whom met Robby while working at a digital marketing firm together, joined the team and a podcast and social channels were launched. 
The only rule at Chrome Unboxed became, "Create good content, often," according to Partner Joe Humphrey.
Challenges
Chrome Unboxed's audience continued to grow, and the partners wanted to take the side hustle to a full-time venture and formed a formal business structure in 2019.
Overnight, monetization and user experience went from a nice-to-have to a necessity as profitability and paychecks became the goals. Increasing revenue through advertising and investing in the website were now paramount. Advertising seemed the most reliable way to generate revenue from the partners' now media outlet. 
As Chrome Unboxed worked to continually add rich content and grow the website's audience, it began generating revenue with Google ads. On their own, the Chrome Unboxed team was getting only a subset of Google ads, and found they were spending a lot of time managing ads and maintaining the backend. This was a huge challenge for Chrome Unboxed as it needed to spend its time generating the quality content it was known for and its active followers counted on daily. The young company wanted to stay focused on its only rule: create good content, often. 
Solution 
Chrome Unboxed knew it needed technology tools to get more premium advertisers while still giving users an enjoyable experience on their site, so reached out to several vendors and ultimately decided that Ezoic was best suited for their growing needs.
"With Ezoic, we get access to premium advertisers, and the machine learning and AI has been fantastic at landing the right ads on our site. As tech nerds, we love the fact that they use cutting-edge technology to deliver the best ad experience on our website – while allowing us to focus on the content," says Joe.
Ezoic leverages AI and machine learning to target the ads to certain users. It determines the best placement and number of programmatic ads for the individual every single time the website loads. Ezoic interjects specific ads when it identifies a user that typically responds to them in particular places on the page – sometimes doubling revenue by optimizing ad placements and types of content particular users are interested in. 
"We still have control over the site. We can optimize to focus specifically on increasing ad revenue or the user experience – we're about in the middle and optimize for both," says Joe. 
Chrome Unboxed leans on its Ezoic publisher success manager for strategy and support, messaging or calling Ezoic whenever guidance is needed. "Our success manager will also reach out to us with ideas and new tools we can leverage on the Ezoic platform," Joe adds. 
The Ezoic platform features a robust backend dashboard with analytics that provide author metrics, pageviews, categories of content, and more, and is designed to be intuitive and incredibly easy to use.  
"Ezoic's platform continues to evolve, giving us more and more tools we can use to optimize our site for user experience and revenue growth," says Joe. "The advanced technology tools, coupled with the incredible business relationship, dedicated success manager, and investment from Ezoic, has allowed us to grow incredibly quickly," says Humphrey.
Results
Today, Chrome Unboxed qualifies for Ezoic's highest publisher level – VIP. It's also one of the Ezoic publishers to benefit from the $12.4 million investment initiative Ezoic announced earlier this year. Chrome Unboxed is using the investment to hire talent, create more videos and digital content, and to begin testing Ezoic's Video Player to optimize revenue.
Chrome Unboxed also recently added a video component to the podcast, ramped up content with the website's latest version, and is capitalizing on a new layout that allows even more information to hit users' browsers right from the beginning. Users can also select the newsletter of their choice and subscribe from the homepage or sidebar on inner pages, as well as leverage an upgraded search and a new sliding menu.
"Ezoic's expertise and investment have enabled us to scale – adding talent and resources we could have never added as quickly," says Joe. "We generate a substantial portion of our revenue from website ads, which means we need the best tools, support and expertise possible. We have that in Ezoic."
As Ezoic VIP-level benefits and platform technology continually evolves, Chrome Unboxed is leveraging features as they are added.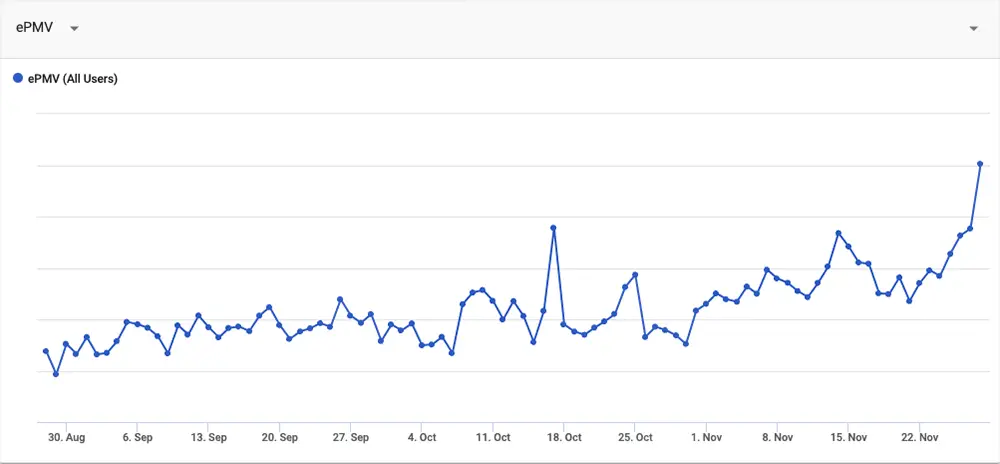 With the help of Ezoic and Chrome Unboxed's unrelenting focus on quality content for "people who like to nerd out on Chromebooks and everything Chrome OS," as Joe says, the media outlet has grown from the thousands to now millions of visitors a month. The company's revenues have expanded 152% in the past three years, and Chrome Unboxed anticipates Ezoic's investment will work to accelerate that growth in 2022.  
"Our partnership with Ezoic has been instrumental in our success, and has allowed us to step away from our full-time jobs. It has enabled us to scale quickly and attract more premium advertisers and expand our staff. We just hired two more people!" says Joe. "It's the best business tool we have."
Joe's advice to other publishers looking to grow and monetize their websites: "Just do it! When you try to plan this stuff out, you can overanalyze to the tenth degree. But if you get the basics right, find that niche that is your thing, you can create a community around the content you are super passionate about, and start making a living from that passion."