Ezoic is on, Here's what you need to know
Now that your site is up and running on Ezoic's platform, we wanted to share some important Getting Started information. It's a long read but will give you a full understanding of what to expect now that your site is live on Ezoic's AI Platform.
1. The Time Factor
Ezoic's technology is able to provide revenue uplift and user experience improvements by learning how your site's readers behave and adjusting the ad layout to suit each user's unique browsing behavior. Therefore, it will take time for Ezoic's AI to gather inputs from your readers and their various behavior profiles, calculate the best ad locations / types / sizes / densities for each reader profile, and deliver you a significant revenue uplift accompanied by UX improvements. It's especially important to be patient during the first few weeks of testing; the system is testing millions of different ad combinations and doesn't happen overnight!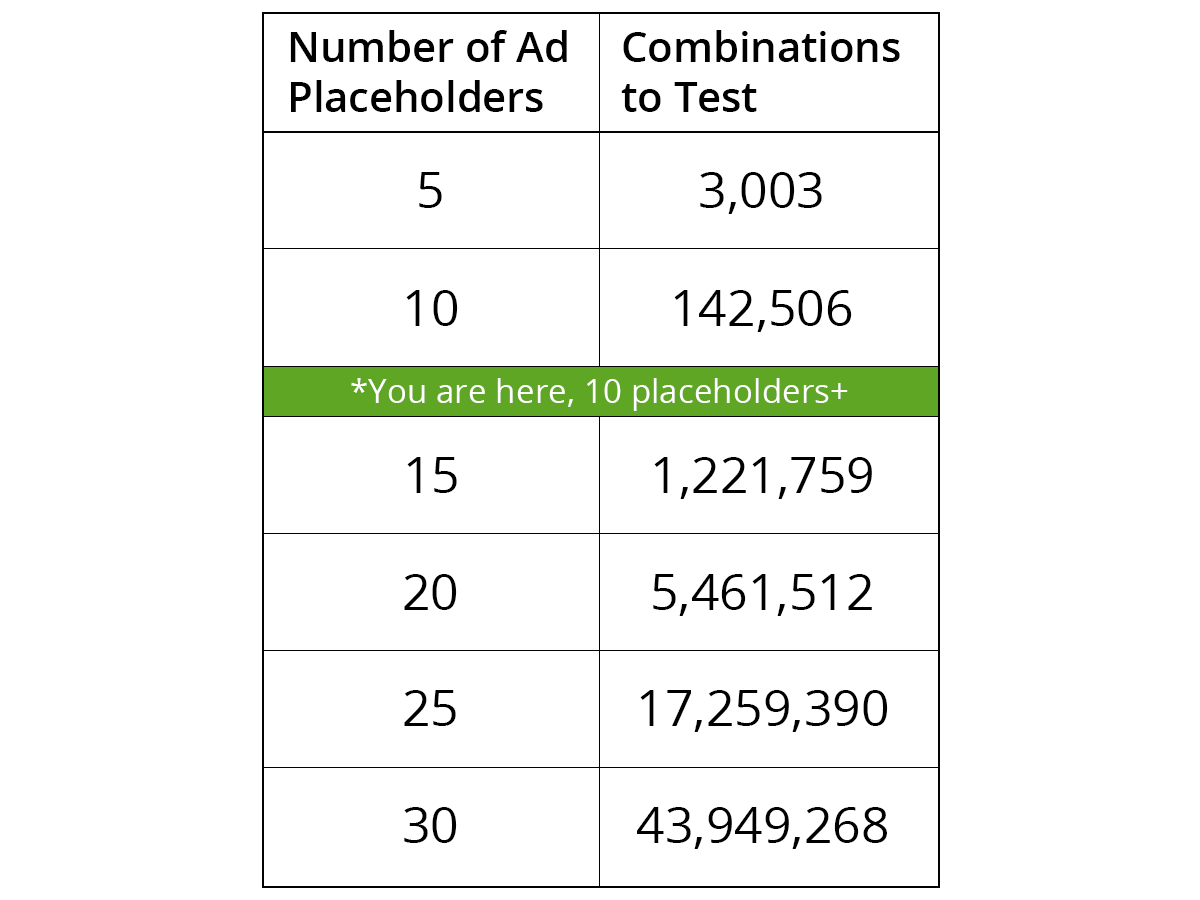 2. Your Ezoic Dashboard
You can access it at any time here. As Ezoic is now dealing with a massive quantity of information from different behavioral patterns, ad providers and reader preferences, the reporting is not in real-time. Traffic numbers and revenue are typically accurate from 12 pm PST the following day.
3. Ad Revenue
The ad revenue for the portion of the traffic that you are sending to Ezoic will now be collected and paid through your Ezoic account.
Ezoic's payment terms are net-30, meaning all of your earnings this month will be paid out to you in full at the end of next month (typically around the 28th of each month). Be sure to set up your preferred method to receive your earnings, via check or Payoneer. More instructions on payment methods/terms found here.
4. Unique Ad Placement
Ezoic's machine learning platform automatically adjusts the ad placements for each user according to how they behave on the site and interact with your content. It's looking at thousands of data points: landing page, device, traffic source, operating system, screen resolution, time of day, day of the week, if they are a new or returning user, and even the weather of where they are located! All these data points help Ezoic's system understand how they behave on the site in order to provide custom-tailored ad combinations to maximize revenue and improve user experience.
Keep in mind that each user is seeing a different ad layout. The ad sizes, locations, and density of ads have been customized to each individual's preferences. At all times it's measuring the impact of the ads on the page to the user's experience on the site. If they respond negatively to a certain ad combination it will be phased out and replaced with a more user-friendly ad layout.
When you visit your site, Ezoic will likely acknowledge you as a power user – you visit more pages, spend more time on the site, and never bounce. Therefore, Ezoic's system will categorize you as a user with a high tolerance to ads, meaning that it will show you more ads than the average user.
We highly recommend not making any changes to your site's placeholder set up as every change can significantly impact the performance and increase the amount of time it takes to see results.
5. Big Data Analytics
Our recommendation is to use the Big Data Analytics tool to see optimization progress. It has tons of powerful insights on visitor behavior to help you further your ambitions for the site. Some of the key reports available to you are revenue and UX performance by landing page, category type, article length, traffic source, and much more.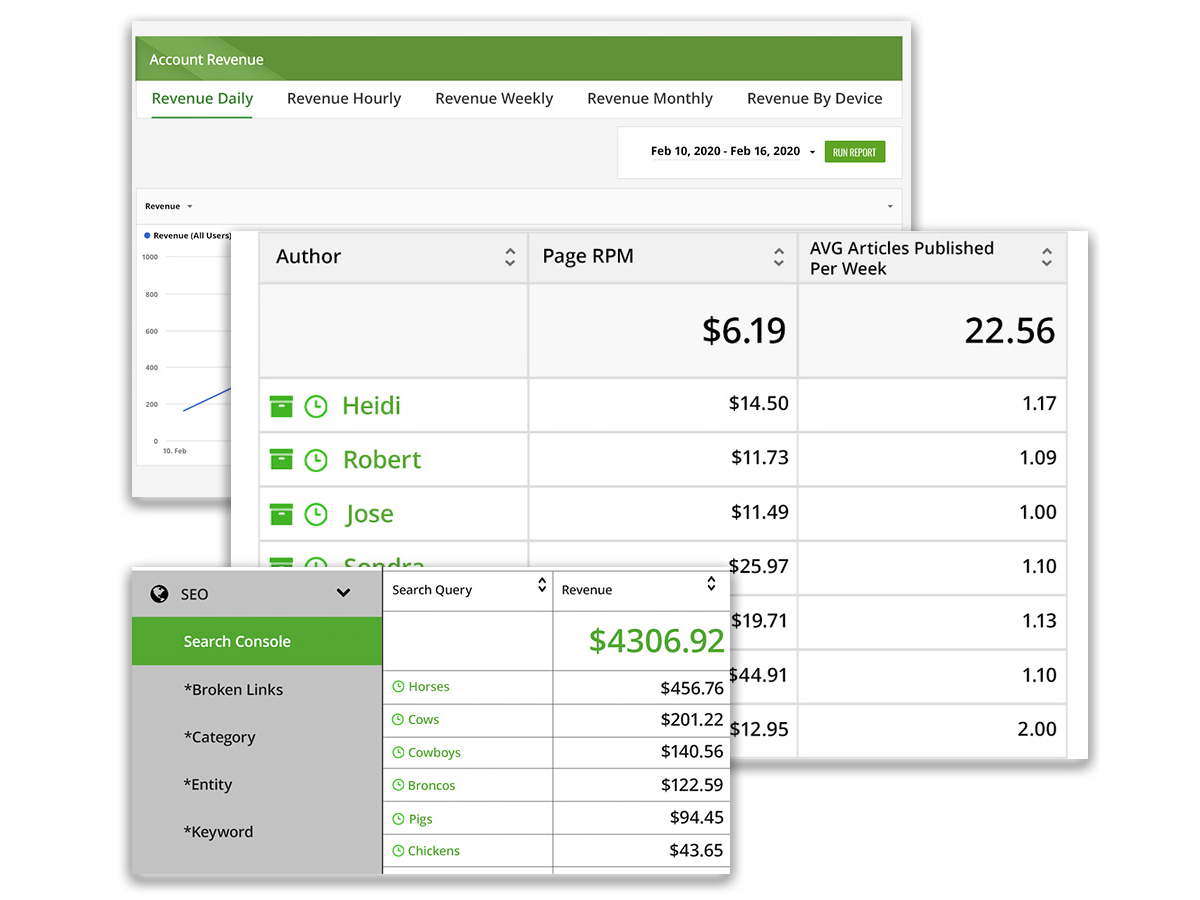 6. Optimizing Your Site Speed According to Google SEO
Site speed is an important topic for publishers, and we recommend taking a look at this article, which will give you valuable insights into which site speed metrics Google prefers to be optimized for SEO purposes.
When you connect to Ezoic's CDN, you automatically update your site to run according to Google's SEO site speed recommendations. Ezoic works as a proxy, serving your content via a cache from the closest data center to the reader and uses lazy loading, which prioritizes the essential elements to show first. It will load the content first, then images, then layout and lastly the ads are loaded asynchronously. It loads the content first to improve your site's Time to Interactive and Time to First Byte, which will help improve SEO rankings and personalize the overall UX for each reader. Your Total Page Load is expected to go up – this is done deliberately as a result of the lazy loading, which improves your site's health and your readers' satisfaction.
7. Clever Digital Publishing Strategies that Actually Work
During one of our most recent publishing events at Google HQ in New York, our team created the ultimate walkthrough of successful digital strategies, which you can find the full video to here.
8. Additional Smart Features
Adaptive Sizing

– The system can test multiple smaller ads within a larger placeholder location. For example, you may see two 300×250 ads stacked on top of each other instead of serving one 300×600 ad in the sidebar.

AI Placeholders

– The system will test additional locations outside of the manually-added placeholders for mobile users.
Both of these smart features are enabled in the testing process, however, you can toggle both OFF/ON at any time. For optimal results, we suggest keeping both features ON. The system uses predictive data to determine which user profiles to enable or disable these features for.
9. Customize Your Goals
You are ultimately in control of what the machine learning optimizes for. Our default setting is to put equal weight towards revenue generation and user experience optimization, which we recommend keeping, but you can customize this at any given time to put more emphasis on revenue or UX.
10. Resources and Support
If you have any questions, we recommend first looking in our knowledge base, which has answers to all common questions. If you have any urgent issues, please submit a support ticket through the knowledge base.